Fanuc Series OTB Features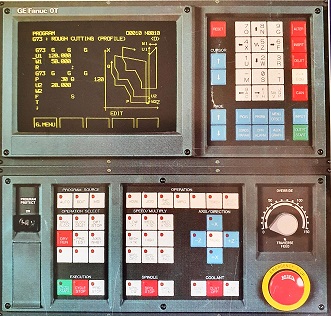 GE FANUC SYSTEM OT-Model B
The GE Fanuc Series O-T MODEL B (referred to as OT-B) is a CNC for high speed, high accuracy and high efficiency machining especially designed as numerical control for small, all-purpose lathes, automatic lathes, and lathes controlled by programmable controllers.
By the use of high-speed microprocessor and many custom LSls in the control circuits, the number of circuit elements has been drastically reduced. The result is outstandingly high reliability. At the same time, since the control section including a power supply is very small (560mm W x 400mm H x 200mm D) it can easily be incorporated into a power-magnetics control cabinet at the machine side.
The OTB ist of panel-mount structure so that it can easily integrate electric and mechanical systems. Furthermore, GE Fanuc PMC-MODEL L or M programmable machine controller, can be incorporated to simplify the power magnetics control circuits. Thus, more compact integrated system can be configured.
The O-TB also incorporates the GE Fanuc servo motor series, the most widely used servo motors in the world. They result in high speed, high-power, stable machining performance.
The O-TB feature GE Fanuc's compact, fully enclosed AC Spindle Motor, permitting totally electric orientation control for enhanced convenience.

High-Speed, High Precision Machining
Outstanding machining speed
The 0-TB is capable of machining short, continuous blocks at remarkably high speed.
Superlative machining precision
Digital-servo feed-forward control and a host of compensation functions enable a remarkable achievement in machining precision.
Increment system: I/O (option)
Least input increment can be set at 0. 1µm.
Feed-forward control
By reducing servo lag, it is possible to minimize profile error.
High-response backlash compensation
High-response backlash compensation makes it possible to minimize profile error at quadrant boundaries, etc.
Stored pitch error compensation (option)
Stored pitch error compensation makes it possible to correct error due to mechanical causes such as feed screw pitch error.



Remarkable Machining Effiency

Powerful built-in PMC (option)
Two PMCs are available: PMC-L and PMC-M. High-speed microprocessor enables a significant improvement in PMC processing capacity. High-speed M, S, T interfaces with CNC are also adopted to reduce the execution time of M, S, T functions. The result is an important reduction in machining cycle time.

Axis control by PMC (option)
Independent axis control can be achieved through commands issued by PMC rather than CNC. PMC can control maximum of 4 axes, which operate independently from the axes controlled by CNC. PMC axis control is useful for applications such as indexing control of tool post.

Fully Electronic Absolute Position Detector (Option)
The AC servo motor features a built-in fully electronic absolute position detector which retains the specified machine coordinates even if power to the CNC is turned off. This greatly simplifies operation by eliminating the need to carry out zero return normally required when power is turned on. The absolute position detector is fully electronic and uses no gears or other mechanical components. The result is extremely high reliability with no problems relating to wear, etc.

Easy Programming Using Graphic Aids

Conversational Programming with Graphic Function (Option)
Graphic explanations of command data and program menus are displayed on the Fanuc CRT to aid in programming. So programming is simple even for beginners.

Direct Drawing Dimension Programming (Option)
The angle of a straight line, chamfering value, corner radius value, etc. indicated on the machining drawing can be used directly in programming. Further, it is possible to insert chamfering and corner rounding between straight lines at an arbitrary angle.

Tool Nose Radius Compensation (Option)
Tool center path is automatically generated from profile by offsetting tool nose radius, so that higher accuracy and fine adjustment are possible without the need for tedious calculator tions or the use of a computer. Furthermore, setting point of tool nose can be specified. Compensation and offset pairs can be expanded up to 32 pairs.

Graphic Display (Option)
Prior to actual machining, programming accuracy can be checked by displaying the programmed tool path in graphic form on the CRT screen. It is also possible to describe the tool path on the screen during actual machining so the operator can easily keep track of machining progress.

Distinguished Control Capabilities

Part Program Storage and Editing

Stores part programs and subprograms in the memory.
Capacity: 33 ft (10m) of tape information as standard and 1056 ft (320m) as an option.
Allows tapeless operation with the part program stored in the memory and by calling the stored subprogram as required.
Searches, deletes, and corrects stored words or blocks and inserts new words.
Searches and deletes part programs stored in the memory. Also inserts a whole part program.
Operates the machine by the corrected part program.
While performing one machining process, it is possible to edit the program for the subsequent process (option)
Connecting GE Fanuc PPR, programs can be input and output. (option) This simplifies and speeds up program debugging. The trouble of setting or changing the NC tape is eliminated. The part program stored in the memory can be quickly modified to machine under the most suitable cutting condition.
Custom Macro (Option)
With custom macro (body) the user can program, store, recall and execute his own automatic cycles, etc. In other words, the user or machine tool builder creates his own program, thereby permitting unique program designed to match the needs of the given NC machine tool, for individually tailored work capability.
variables can be used.
nter-variable calculations (add/subt/mult/ div, trigonometry, binary/decimal transform nations, etc.) are possible.
branching is possible.
external input and output of actual variable values are possible.
Order-Made Macro (Option)
GE Fanuc offers several types of standard custom macro. When an order is received, the selected custom macro is written on ROM cassette and shipped from GE Fanuc factory following stringent reliability testing. Upon request, GE Fanuc also prepares custom macro to special specifications. Because this order-made macro is stored on ROM cassette in running form, it requires less tape storage length and shorter execution time than standard custom macro.
Multiple Repetitive Cycles for Various Applications (Option)
This macro-programming feature generates a series of cutting path with simple tape commands. For instance, data for the finishing work shape automatically determines the tool path for rough machining.
Direct Input of Offset Amount B (Tool Setting) (Option)
With this feature, by touching the tool nose ally with a touch sensor, the tool compension values for that tool are automatically calculated by the CNC and set on the corresponding tool compensation register. Because the CNC processes all arithmetic computations setup changes can be carried out quickly and flawlessly.
Variable Lead Thread Cutting (Option)
Variable lead thread cutting is possible.
Continuous Threading (Option)
It is possible to designate the threading blocks ( G32, G34) continuously. The dead time in the pulse distribution between the threading blocks is eliminated.
Keyboard-type Manual Data Input (MDI) and CRT Display
Results in much flexibility of operation, such as:
Input and display of NC command data.
Setting and display of tool offset values.
Display of various alarm signals.
Display of self-diagnostic results.
Setting and display of various functions and parameters such as minimum increment values, rapid traverse speeds, acceleration/ deceleration time constants for rapid traverse, and backlash compensation values.
Display of current position triple size numerics are displayed
Display of programs stored in the memory during cycle operation.
Multi-Language Display (option)
All messages can be displayed on the CRT in a choice of languages including Japanese, Each message is precise and easy to understand
2-Axis Control by Manual Pulse Generators and Playback (option)
Playback is possible; the result of a manual trial cutting can be memorized in the NC for automatic operation. Multiplication of the manual pulse generator is possible up to 100. So the operator can manually move a machine in the same manner as with the handle of a conventional lathe.
GE Fanuc CASSETTE Connection (option)
Compact and easy-to-use GE Fanuc cassettes (patent pending) can be used for transfer and storage of NC command data. GE Fanuc cassettes are available in two types;
GE Fanuc
cassettes F1 which use a floppy as the information medium, or GE Fanuc cassettes B1, B2 which use a
bubble memory
.
GE Fanuc PPR (option)
The GE Fanuc PPR can serve as an input/output device for NC command data. performs paper tape punching and reading as well as NC data printout.
High Performance, Extremely High Reliability
High Performance, High Reliability
Extensive use of high-speed microprocessors and many custom LSIS in the control circuit has drastically reduced the number of circuit elements.
The highly efficient power supply has been employed to reduce heat generation. The keysheet for the NC operator's panel incorporate special rubber sheet for dust- and drip proofing. The sheet covering the keys is provided with finger-rests over each switch for tactile assistance in operation. Key operation is also facilitated by a large switch stroke and a crisp snapback touch. Key operation is also extremely easy thanks to a large switch stroke and a crisp snapback touch. Furthermore, very careful selection of components and very extensive performance tests before shipment ensure long-lasting trouble-free operation.
Easier Maintenance. Self Diagnosis
Maintenance of 0-TB is much easier because:
The microprocessor always monitors the internal state of the NC, and the state can be classified and displayed. When a failure should happen, an alarm lamp lights, the NC stops its operation, and the detailed cause is classified and displayed.
All On/Off signals going into and out of the NC can be shown on the display
Any On/Off signal going out of the NC can be issued manually through the manual data input in bit-by-bit manner .
Various preset parameters such as acceleration/deceleration time constant and rapid traverse speed can be shown on the display.
Detection of spindle speed variation is possible. Actual spindle speed is always monitored. If the speed is lower than the specified value, the alarm signal is issued. (option)